Last updated on 15-Aug-2023 by
Jakob Jakobsen Boysen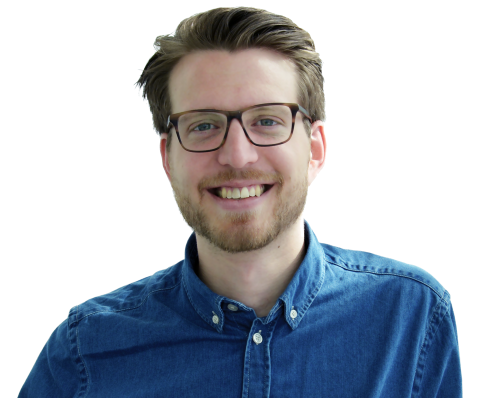 Jakob Jakobsen Boysen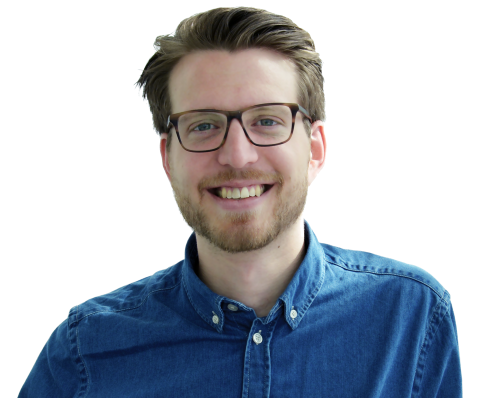 Platform Lead
boysen@scifeon.com
On this page
On the frontpage you will see one or more dashboards. The default dashboard is called Welcome to Scifeon and is available if enabled by your administrator. The dashboard is a collection of widgets that can be configured to show different information. The widgets can be moved around and resized to fit your needs. You can also create your own dashboards and share them with your colleagues.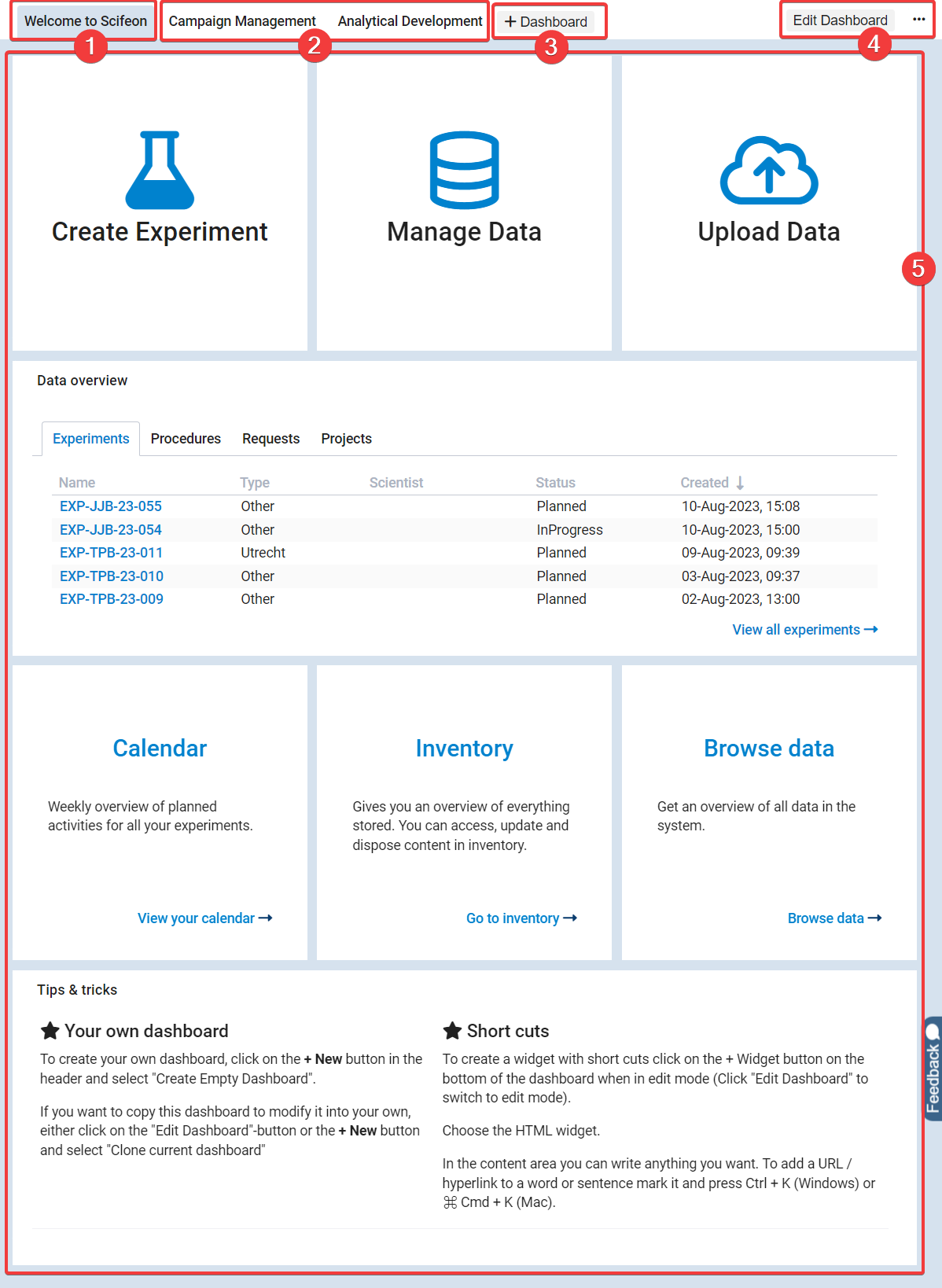 These are the sections marked in the screenshot above:
The currently active dashboard.
Available dashboards. Click to see.
Creating new dashboards.
Editing, sharing and deleting dashboards.
The widgets on the active dashboard.
Creating a new dashboard
To create a new dashboard, click the + Dashboard button at the top (3), and select to either Create empty Dashboard or base it on the currently active dashboard by clicking Copy current Dashboard. A new dashboard will be created and you will be able to add widgets to it.
Name the Dashboard at the top where it says "New Dashboard".
Add widgets by clicking + Widget at the bottom. A list of available widgets will appear. Click the widget you want to add. The widget will be added to the dashboard and you can move it around and resize it to fit your needs.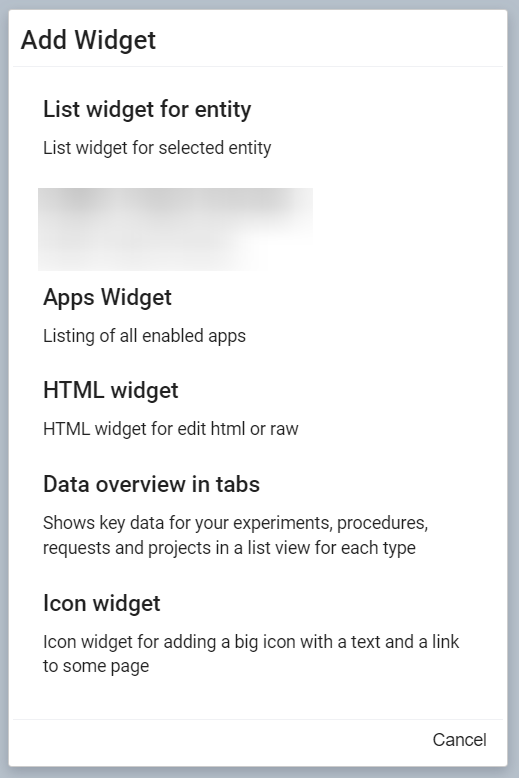 The List widget for entity and HTML widget are currently the most used. The List widget for entity is used to show a list of entities, e.g. samples, projects, etc. The HTML widget is used to show custom HTML content, e.g. links to other parts of the system.
For all widgets you can set a header, below you will find a description of the most used widgets.
List widget
Selecting a widget will guide you to the configuration dialog for that widget. The configuration dialog for the List widget for entity looks like this: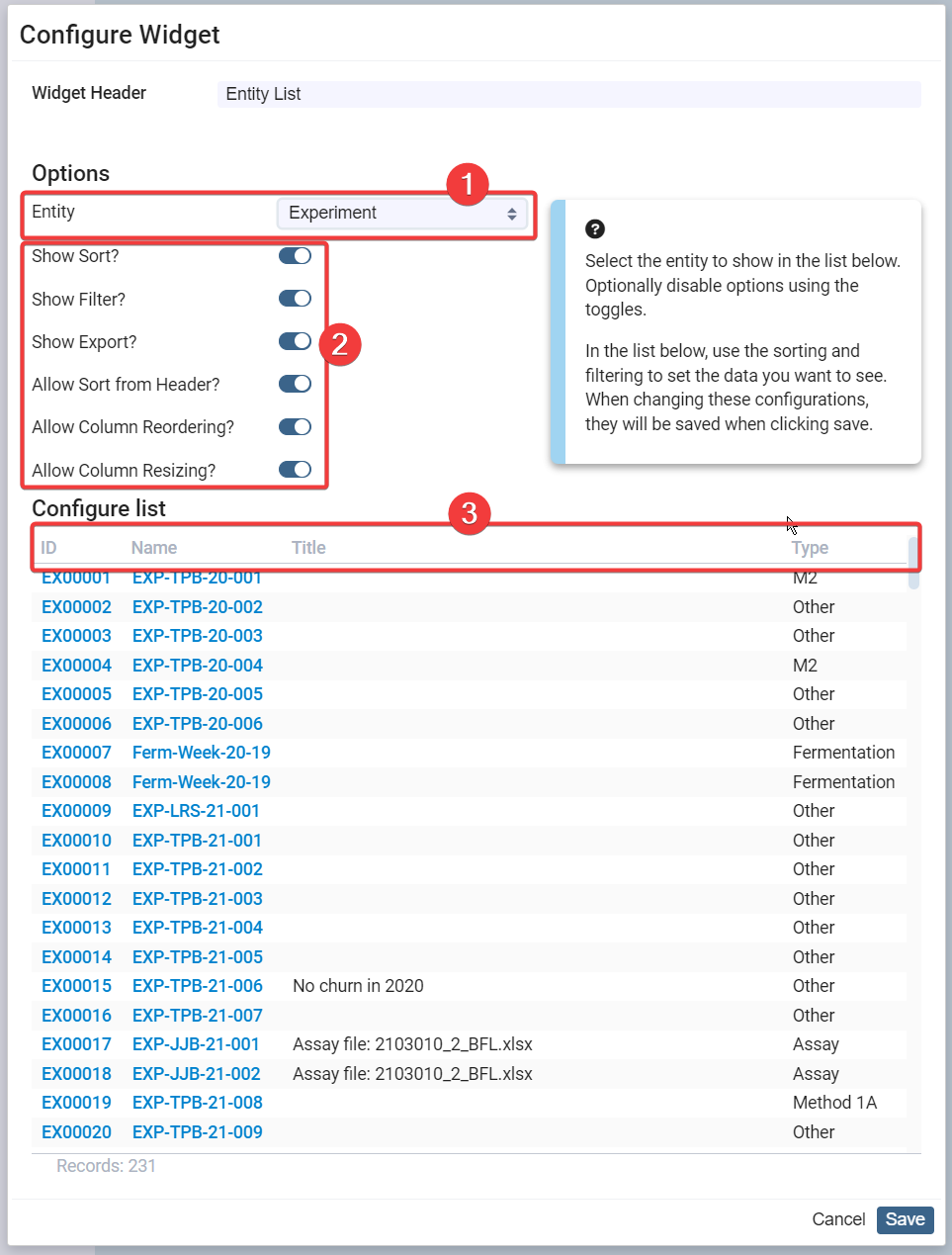 Here you can select the Entity (1) you want to generate a list of, and then configure either using the options in (2) or by clicking a header in (3) to configure the columns. The List widget for entity is very flexible and can be configured to show exactly the information you need.
HTML widget
Missing a widget?
Either contact Scifeon at
support@scifeon.com
or contact your local Scifeon administrator.
Editing and deleting a dashboard
To edit a dashboard click Edit Dashboard. To delete a dashboard click Delete Dashboard in the dot-menu:

By clicking Edit Dashboard you can edit the name (1) of the dashboard, add widgets (2) and delete/edit/clone/move widgets (3).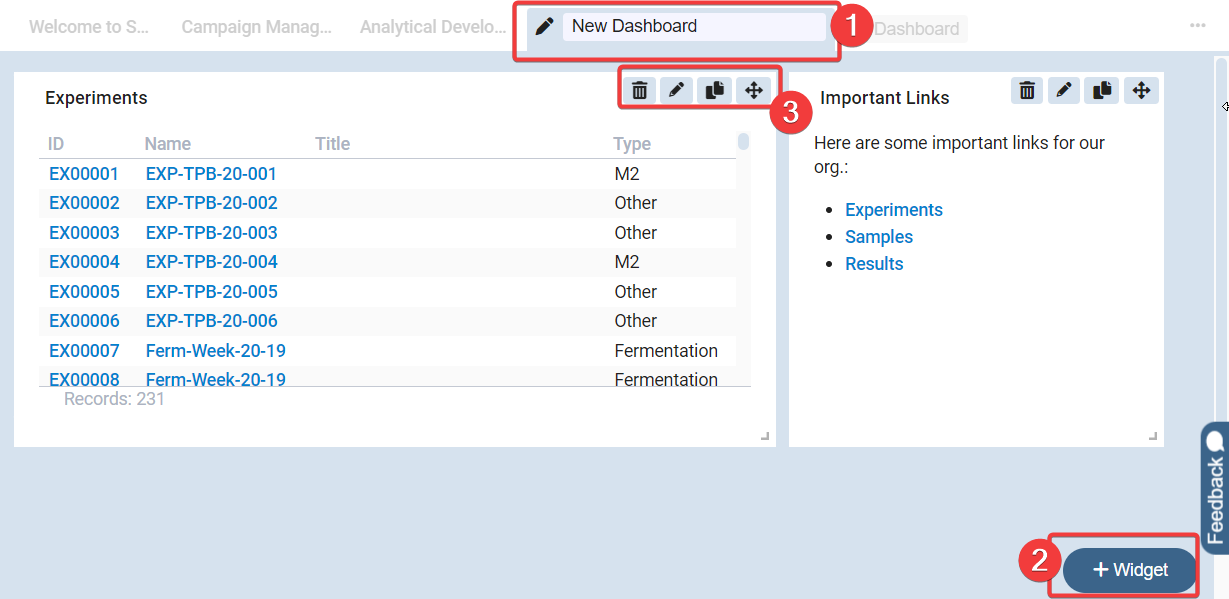 When you have made your changes, click Save at the bottom of the page.
Sharing a dashboard
To access sharing of dashboards, click the dot-menu and select Share Dashboard. Here you can select which users, departments and/or projects should have access to the dashboard. You can also share the dashboard with all, which means that all users will have access to the dashboard.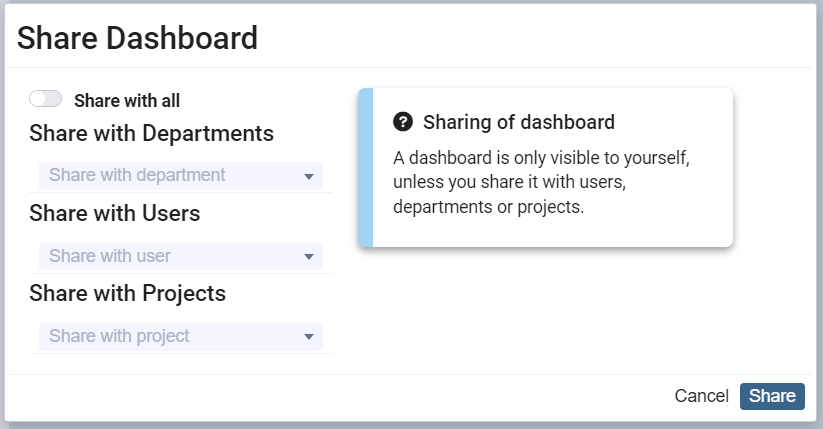 Next step
On the next page you will find information about Managing Data: Go to Managing Data